About NORDOX
The origins of NORDOX go back to 1886, the founding year of the NORDEN paint factory specializing in cuprous oxide based antifouling paint for the fishing fleet. In the 1920's the company started cuprous oxide production for its own requirements.
After World War II the company won a contract to supply cuprous oxide to the British Admiralty, which gave an incentive to expand the capacity and to supply other marine paint manufacturers as well. In 1962 the cuprous oxide business was established as NORDOX under new ownership with the objective of specializing in cuprous oxide for the world market.
Building on its long history NORDOX adapts to technological changes and new requirements in the market. Together with existing and new customers NORDOX is a leader in finding new and exciting application areas for the NORDOX dicopper oxide. Being a market leader with a continuous capacity expansion program NORDOX offers high-quality products on cost efficient conditions.
Market Coverage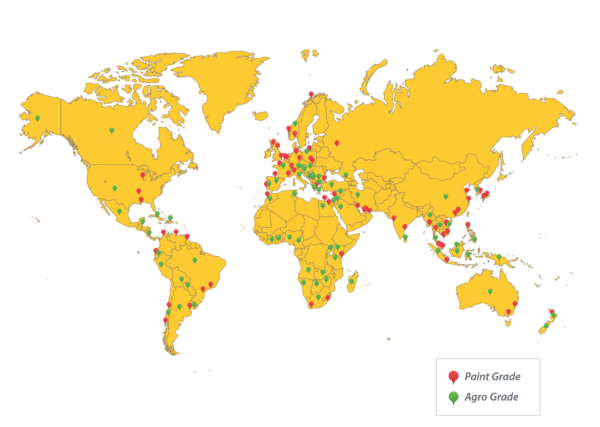 NORDOX has achieved a leading position as a global supplier of dicopper oxide (cuprous oxide) to the marine paint industry for the manufacture of antifouling paints and fish farm net dips.
NORDOX is a world leading producer of dicopper oxide as active ingredient for the protection of a wide range of agricultural, horticultural and forestry crops. In addition to these uses, NORDOX dicopper oxide is used as a fertilizer on soils with a copper deficiency. The bulk of the production is exported to more than 70 countries.
NORDOX Supplier Integrity, Sustainability, and Ethics
NORDOX aims to make effective procurement that supports positive social development that considers people, society, and the environment. To achieve this, NORDOX sets several requirements for those who wish to become suppliers to NORDOX. This includes requirements for the supplier's Labor and Human Rights, HSE responsibility, sustainability, business ethics, and compliance with laws and regulations. Supplier sustainability is evaluated annually through EcoVadis sustainability assessments.
Please read our Supplier Integrity Declaration:
NORDOX Labor and Human Rights Policy
NORDOX AS CSR code of conduct for suppliers
Redegjørelse for Nordox AS' aktsomhetsvurderinger 2022
(Statement on Nordox AS' due diligence assessments 2022)